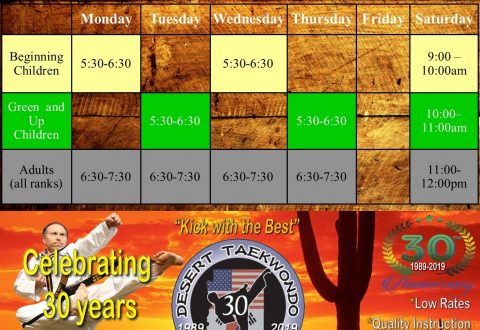 With the children's classes growing again, we have split the Saturday classes like they are during the week. So the Beginning Children will start at 9am and the rest of the schedule is unchanged. Less kids in class means more individualized attention.
Desert Taekwondo celebrates 30 years in Business! Grand Master Malm updated his Lifetime Progression Video to commemorate the 30th Anniversary of Desert Taekwondo. This video spans his lifetime starting in 1971 with his judo class to today and shows video and pictures throughout almost 50 years of training.
Student Video from 1989 – 2019 Thank you to all the students over the past 30 years who have made Desert Taekwondo what it is today and creating an atmosphere and legacy that strives from EXCELLENCE!!!!!
Congratulations!!! Gary L. Smith (age 72) was promoted to the rank of 8th Dan by Grand Master Brian Malm on March 30, 2019 at the Desert Taekwondo 30th Anniversary. Thank you for 30 years of dedication, commitment, and setting an example that all should follow.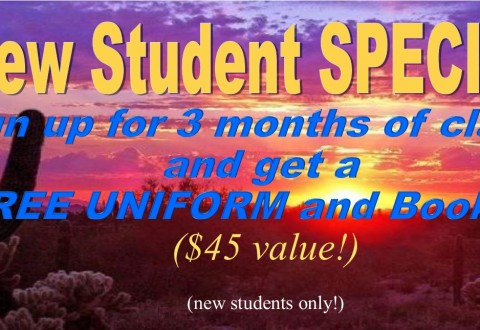 New Student SPECIAL! Pay for three months of classes and get a FREE UNIFORM and Booklet!!! (a $45 VALUE!) (new students only!) Our curriculum centers around Taekwondo with an emphasis on technique, self defense, discipline, and control. We are dedicated to producing excellent martial artists that have exceptional skill and character. We place importance on being […]