Grand Master Brian R. Malm, 9th Dan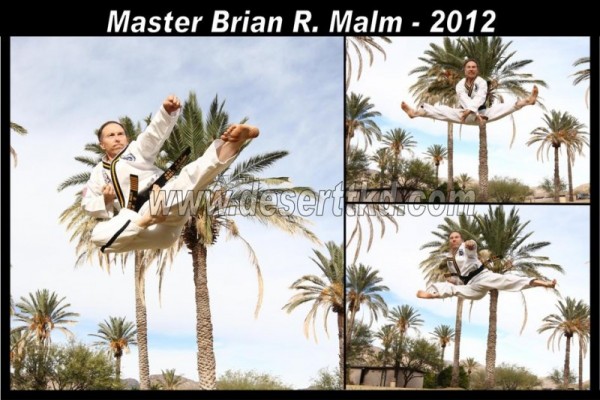 Grand Master Malm began his martial arts training at the early age of 5 and he has been teaching Taekwondo since 1988 when he received his Black Belt. Since then he has spent his life teaching self-defense and Taekwondo to men, women, and children from ages 3 and up.  Grand Master Malm currently holds a 9th degree Black Belt in Taekwondo from Grand Master Robert Dunn of the Jun Tong Taekwondo Federation (JTF) and Kong Young Il of Brother Taekwondo International; as well as a 7th degree in Shobu Ryu Aiki Torite Jujutsu/Kobujutsu from Soke Robert Bugh, a 5th degree Renshi from Hanshi Richard Gonzalez in Okinawa Kenpo Karate Kobudo.  In 2009 he was inducted into the USA Martial Arts Hall of Fame as 'Multi-Disciplined Martial Arts Master of the Year' and also earned his Doctorate in Martial Arts Science from the University of Asian Martial Arts Studies.
His teaching career started with the Tucson City Parks and Recreation in 1987 along with the Happy Hours program in Arizona public schools. He also taught Taekwondo to middle school students for P.E. at BASIS Charter School from 1999 to 2004.  For the past 30 years he has owned and operated Desert Taekwondo and spends his time teaching there.
Grand Master Malm's goal is to facilitate a positive learning experience for students of all ages!  While he occasionally has other black belts teach class to gain experience, he takes pride in teaching all of his students personally.
Rank and Life History:
He began studying martial arts at the age of 5 (1971)in a judo class at the Ott YMCA, Tucson, Arizona. As he got older he started his studies in Aikido, Karate, and defensive tactics from Richard Malm (his father) a veteran police officer (retired police lieutenant, training officer, and Officer of the Year 1976).
1971 Judo at OTT YMCA with Joseph Holck
1980 – 1984 Santa Rita High School Gymnastics Team – All Around Champion 1984.
1981 – 1987 Wing Chun Gung Fu under Sifu Augustine Fong.
1984 – 1987 Aerobics & weight training Instructor at All American Nautilus, Tucson, Arizona.
1988 1st Dan Taekwondo WSTF (Western States Taekwondo Federation)
1988 – 1993 Taekwondo Instructor for Tucson City Parks & Recreation
1989 2nd Dan Taekwondo WSTF (Western States Taekwondo Federation)
1989 Certified Instructor of Taekwondo WSTF
1989 – Present : Owner of Desert Taekwondo
1991 3rd Dan Taekwondo NTFA (National Taekwondo Federation of America)
1995 4rd Dan Taekwondo NTFA (National Taekwondo Federation of America)
1999 5th Dan Master – Taekwondo NTFA (National Taekwondo Federation of America)
1999 – 2004 PE teacher Basis Charter School (taught martial arts for physical education)
2005 6th Dan Master – J. Palais Martial Arts International – Taekwon-Do
2008 7th Dan Shihan – Shobu Ryu Aiki Torite Jujutsu/Kobujutsu (Soke Robert Bugh)
2009 5th Dan Renshi – Okinawa Kenpo Karate Kobudo – San Toku Kan (Hanshi Richard Gonzalez & Kyoshi James Wiese)
2009 Inducted into the USA Martial Arts 'Hall of Fame' as "Multi Disciplined Martial Arts Master Of The Year!"
2009 Earned my Doctorate of Martial Arts Science; Ma.D.Sc. from the University Of Asian Martial Arts Studies
2010 7th Dan Master Instructor – Traditional Taekwon-Do – Jun Tong Taekwondo Federation
2011 Awarded "Instructor of Excellence!" from Blue Cottage Taekwon-Do
2011 Appointed Regional Vice President of the Jun Tong Taekwondo Federation
2013 Appointed Training Advisor for the Jun Tong Taekwondo Federation
2014 8th Dan Senior Master Instructor – Traditional Taekwon-Do – Jun Tong Taekwondo Federation
2015 Appointed President of the Jun Tong Taekwondo Federation
2016 Sifu (black sash) – Wing Chun Gung Fu
2017 9th Dan Grand Master – Traditional Taekwon-Do – Jun Tong Taekwon-Do Federation (GM Robert Dunn)
2018 1st Place JTF-USA Regional Tournament – School Owners Patterns
2019 Awarded 9th Dan from Pioneer Grand Master Kong Young Il of Young Brothers International
This slideshow requires JavaScript.