Father and son
Bonding in the Martial Arts
Martial arts help to develop the mind-body-spirit in each individual that trains, regardless of age or gender. As each person reaches the level of black belt they also develop strong bonds with training partners, instructors, and students. The bond between an instructor and student is difficult to describe to someone who has never experienced it personally – but it is always unique and so deep seated it will last a lifetime – much like the bond between a father and his son. What happens when you have a father and son who train together? Today at Desert Taekwondo, spectators and students where able to witness a wonderful event. They watched two fathers (both black belts) test with their sons for black belts as well.
First we have Levi Davis and his son Connor. After years of hard work, dedication, sweat and tears Connor earned the right to test for his black belt! His father got to test along with him for his 3rd degree black belt. Both cheering each other on as they tested together. They even sparred each other with serious looks, and sometimes smiles on their faces, because they get to share something together that is unique to them alone. Sharing a moment in time that no one else in the world can understand or ever take away from them.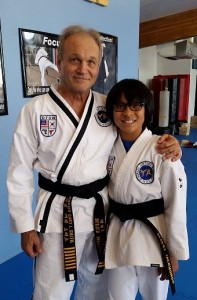 Second we have Master Gary Smith and his son Noah. Striving to be like his dad, Noah tested for his 2nd degree black belt  where he destroyed boards with his hands and feet, defended against attackers, and showed poise and confidence under extreme circumstances. His father tested for his 7th degree black belt showing that at age 68 he can not only hang with the younger generation, but show them a shining example of what good health and a lifetime of training can accomplish. Setting an example not only for his son, but for all generations, inspiring them to tap their deep resources and strive for greater accomplishments themselves.
While watching the testing, you could see the pride the father's had for their son, as well as each child's admiration for their father. You could almost feel the love as the bonds grew stronger watching them hug each other at the end.  In a time where parents are often too busy to spend time with their children, we witnessed the opposite. Two fathers who are involved with teaching, mentoring, and inspiring their children by example. Multiplying a bond that is already strong with something even stronger.