Congratulations to Senior Master Brian R. Malm, 8th Dan. On Saturday August 23, 2014 Grand Master Robert Dunn the founder of the Jun Tong Taekwondo Federation tested Brian R. Malm for 8th degree black belt during regular testing. He was planning a 25th Anniversary of Desert Taekwondo Demonstration when GM Dunn told the audience he […]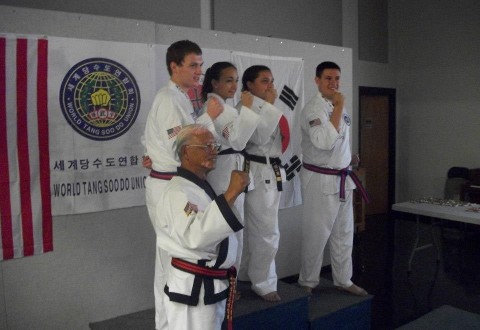 Congratulations to our 10 competitors that won 20 medals (including 6 gold)! On Saturday March 23, 2013, ten Desert Taekwondo students participated in at the 13th Annual World Dang Soo Do National Tournament held in Tucson Arizona.  There were 5 black belts, 1 red belt, and 4 blue belts ranging from age 7 to 33.  They won: […]
Watch the highlight video of Master Amy Malm testing for her 4th degree black belt! See some of her forms, one-steps, self-defense, weapon defense, board breaking, and more!
Breaking Video! This is a compilation of Desert Taekwondo students breaking boards and bricks at demonstrations and testings!
Master Malm performing his jump hook kick break in Macon, GA in 2011 at the Hae San National Tournament.